Welcome to The JD Portal


New Street Video
Heavy Metal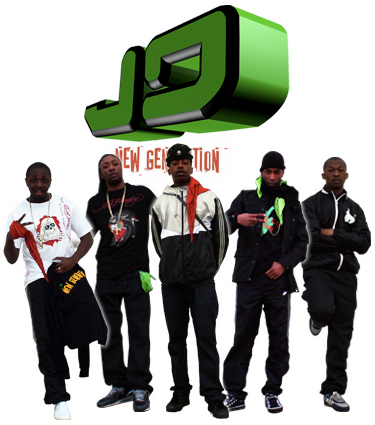 JD which stands for juvenile delinquents is a music team which was founded in 05 by k1, Violator & Malee Bizz, Mr Rizzo. Sharing the same passion in music the 3 began recording tracks over Mr Rizzo's production with a few other members and before you know it they had a buzz that had their names ringing around town. Not til long after joined snappy da youngest mc who already was down with man showed he had a lot of potential and was hungry. Since then the crew have been doin alot of hard workin and got bigger with the likes of mc's DaBoi, and Skitz who are 2 new mc's on the scene, rapidly getting their names known. Now the crew go by the name "jd new generation" and are back in full affect to takeover underground n go on top!!!.
BIG UP EVERYONE REPPING SHEFF AND THIS UK MUSIC SUPPORTIN.

Check Out Da Myspace for Preview Tracks



JD NEW GENERATION
This site is here to promte what we are about. Make sure you register to take advantage of some of the great features our site has to offer. Not only is it here to promote JD but it here for you as well. Take advantage by pushing your own tunes in our
Download
section, take a click over to our
Forum
to promte your crew, your site or anything for that matter. If you don't like something or got any ideas then send us some
Feedback
Shout to the JD Boys - Skitz, Mr Rizzo, Malee Bizz, Violator, String, K1, Snappy, Y Boi
Big Shout to Other Crews on Road - SMG, AOK, SCS, S.C.U.M.
Want Some Big Samples - Check ModernBeats Out!

Drum Loops & Samples

SITE IS BEING UPDATED TO OFFER MORE FEATURES
THANKS FOR ALL YOUR SUPPORT
WE RECIVE APPROX 10,000 HITS A MONTH

KEEP COMING BACK AND ALSO KEEP THE FEEDBACK COMING SO WE CAN ONLY IMPROVE



| | | |
| --- | --- | --- |
| New 4x4 Track - JD - Sheff Town | | |




Posted by: bigboy on Saturday, December 08 @ 20:08:09 UTC (3768 reads)
(Read More... | Score: 0)



| | | |
| --- | --- | --- |
| mario & jez new bk to bk tune | | |

mariosfd writes, "

mario n jez new track at www.myspace.com/marios3badman


"




Posted by: bigboy on Monday, October 22 @ 10:20:46 UTC (3532 reads)
(Read More... | Score: 0)



| | | |
| --- | --- | --- |
| Where can I get Hot Samples | | |

Looking for the best Samples around for Urban Music.

ModernBeats is the ONE!

Drum Loops & Samples

Get Big Sounds Like Dr. DRE, Neptunez, Timberland.




Posted by: bigboy on Wednesday, July 25 @ 18:16:14 UTC (5706 reads)
(Read More... | Score: 0)



| | | |
| --- | --- | --- |
| New to Web Link - User's MySpace | | |

writes, "MySpace



Long time since things have been updated. The whole music game got put on bit of a hold, any back in business.

New section for all our visitors to link there MySpace from our site head over to WEB LINK and click ADD LINK

Happy New Year
"




Posted by: bigboy on Sunday, January 07 @ 20:28:13 UTC (6373 reads)
(Read More... | Score: 0)





Right,

We have a problem after the update to our site. User who have a space in there login name will be gettilg Invalid User Name.

Please use the FEEDBACK to advise me of your User Name and I will amend it in our database so you will also require a new user name without spaces init

Sorry for the mistake on our behalf








Yeah, mans wanted to give our visitors a solo sample of some BIG BARZ

Head over to out DOWNLOAD Section, under Freestyles / Sets

BIG JD

Brapp!!








JD Boys bust some hot barz over a Mighty Blaze Production, mixed down by Da-Edge

Vistit our Download section to listen






Posted by: bigboy on Thursday, May 18 @ 20:27:52 UTC (7583 reads)
(Read More... | Score: 0)



SNiPeRZ writes, "YorkshireJunkies.co.uk is the freshest website 100% dedicated to all things Yorkshire. We aim to bring through hot talent from the underground, and showcase it on our website www.YorkshireJunkies.co.uk

It consists of a gallery of graffiti images from hotspots such as Sheffield, Leeds and Barnsley, and will hopefully grow into the biggest ever graffiti gallery for Yorkshire.

There is also a large music section containing interviews with up and coming artists in the Grime, Garage, UK HipHop, Drum & Bass, Dubstep and even Indie scenes. Expect to hear the latest productions, sets and mix CD's right here, from Yorkshire's DJ's, MC's and crews.

Pirate radio sets are available for download from local stations past and present, as well as details on forthcoming events within our club scene.

Customised YJ clothing, an online shop, Yorkshire record shop guides, and much much more is featured on the website too.

The site will be launching on the 1st June 2006, however the forums and gallery are currently live.

Don't forget, get involved!

http://www.yorkshirejunkies.co.uk"




Posted by: bigboy on Tuesday, April 25 @ 19:07:59 UTC (5133 reads)
(Read More... | Score: 0)



| | | |
| --- | --- | --- |
| SHEFF SPECIAL MIXTAPE OUT VERY SOON - ALLOUT | | |

uknowmybateface writes, "WATCH OUT 4 DA MIXTAPE ITS GUNNA BE VERY DUTTY

WATCH OUT 4 DA FEATURES

OUT VERY SOON

ALLOUT /SHOTT DEM RECORDS"




Posted by: bigboy on Monday, April 17 @ 10:11:02 UTC (4664 reads)
(Read More... | Score: 0)



T-Dogg writes, "

cousin of ripsaw the new upcoming mc for 2006 (T-Dogg) has heard that ace from all out youngaz has been chatin shit behind his back.

(LET THE CLASH BEGIN) T-Dogg 'VS' Ace (the little super *****)


"




Posted by: bigboy on Tuesday, April 04 @ 16:08:46 UTC (3707 reads)
(Read More... | Score: 0)



We received
53231679
page views since December 2005